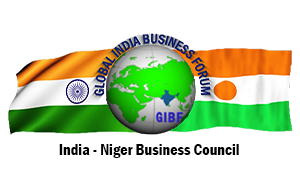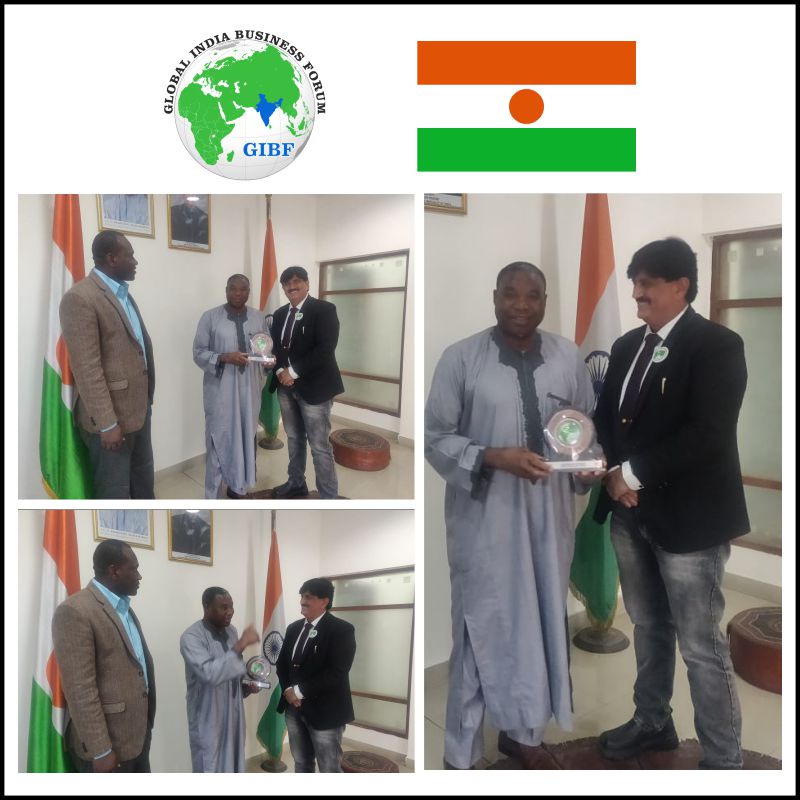 Mr. H.E. Leko, Ambassador of the Embassy of the Republic of Niger accepted the Honorary Membership of Global India Business Forum, in the presence of Global President Dr. Jitendra Joshi. Realizing the strengths of Global India Business Forum and the Consulate of the Republic of Niger and conscious of the benefits to be derived by both organizations and its members through this mutual understanding, both parties will be associated with each other in mutual cooperation to facilitate mutual investment, trade and economic cooperation complimented by knowledge sharing, training, certification and networking.
Exports :
Gold, Onion, Beans, Meat, Uranium ore
Imports :
Cereals Machinery, Petroleum products, Manufactured goods, Vehicles
ABOUT NIGER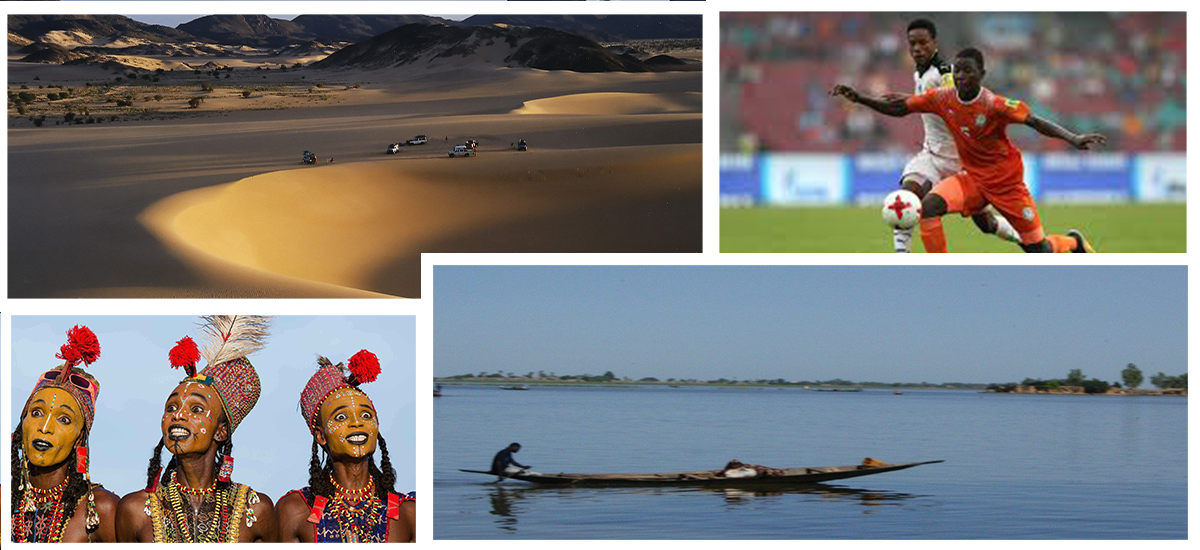 The Republic of Niger, or also called the Niger, is a landlocked country in West Africa which is named after the Niger River. Niamey is the capital of Niger and also the largest city in the country. The country shares its borders with other countries like Libya, Algeria, Chad and Nigeria. It is the largest country in West Africa with a land area of almost 4,90,000 sq. mi. The population is pre-dominantly Muslim. Over 80% of the land is in the Sahara Desert. Niger's culture is a very variable one due to the French colonization during the beginning of the 20th Century. Each of the ethnic communities has brought their own unique traditions and cultures to Niger. Niger's transportation system is mostly reliant on animal transport, human transport and river transport to a very limited extent. Coming to Niger's climatic conditions, the country's subtropical climate is mainly very hot and very dry since most the country is covered in desert. This terrain consists mainly of desert plains and sand dunes. Niger maintains friendly relations with the West and Islamic nations as well as non-aligned nations. It also maintains special relations to its former colonial power France and also maintains close relations with its West African neighbours.
BUSINESS OPPORTUNITIES IN NIGER
Even though Niger has often been overlooked as compared to its contemporary Nigeria, there are a lot of business opportunities in the landlocked country. For example, mineral mining and oil extraction are two of the main sources of income for Niger and hence there are a lot of business opportunities in these fields for the countries who are looking to invest in Niger. In fact the China National Petroleum Corporation (CNPC) has been extracting crude oil in Niger since 2011 and it also co-owns a refinery in Niger. There are business opportunities in the retail sector as there is a huge scope for constructing shopping malls and supermarkets, according to DHL Express country manager Amadou Diabate.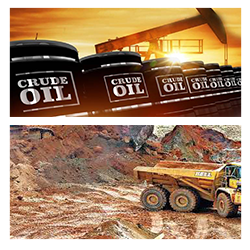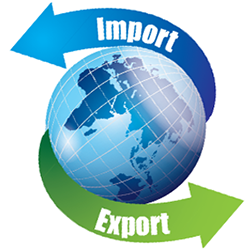 Since Niger is a landlocked country, most of its imports and exports are derived from doing activities on earth like mining and extraction. Hence many products like minerals, crude oil, radioactive chemicals and precious metals are exported to countries across the world. Exports in Niger decreased from FCFA 1,33,989 million in Q4 of 201 to FCFA 1,05,010 million in Q1 of 2019. On the other hand, the imports of Niger rose from FCFA 3,18,840 million in Q4 of 201 to FCFA 3,85,451 million in Q1 in 2019.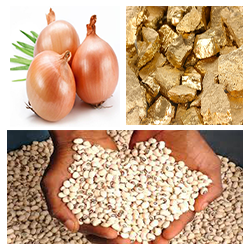 Niger's most important export for Africa is the export of Uranium ore which forms a whopping 75% of the total exports of the country. This is followed by gold, onions, beans and meat, too. The main export partners of Niger are France (55% of total exports) followed by the United States, Switzerland, Nigeria and Ghana.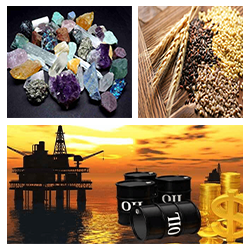 Niger's top imports are cereals, petroleum products, machinery and manufactured goods. It also imports aircrafts and space-crafts in large quantities. In this case too, Niger's main import partner is France (20% of total imports) followed by China, Belgium, Togo and other West African countries.
FOR MORE INFORMATION PLEASE VISIT BELOW LINKS
LINK TO WEBINAR VIDEO