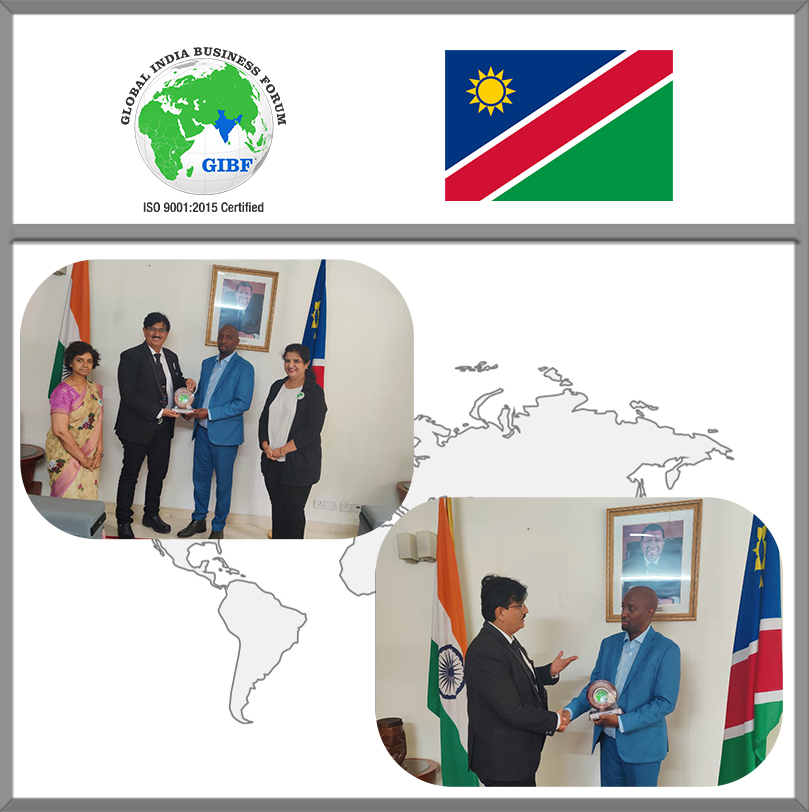 Global India business forum presented H.E. Mr. Gabriel SinimboHigh Commissioner of the Republic of Namibia to the Republic of India.We had a fruitful discussion to collaborate GIBF and Chile to explore different business opportunities and trade between two countries.Global President- GIBF Dr Jitendra Joshi and Co-Founder Director Deepali Gadkari attend the meeting.
Exports :
Diamonds (25% of total exports), Uranium, Lead, Zinc, Tin, Silver, Tungsten, Food and Live Animals and Manufactured Products
Imports :
Machinery, Nuclear Reactors, Vehicles, Pearls & Precious Stones and Electrical & Electronic Equipment.
ABOUT NAMBIA
The Republic of Namibia is a country in southern Africa whose western border is the Atlantic Ocean. It shares land borders with Angola and Zambia to the north, Botswana to the east and South Africa to the south and east. Although it does not border with Zimbabwe, less than 200 metres of riverbed (essentially the Zambia/Botswana border) separates them at their closest points. Its capital and largest city is Windhoek. The dry lands of Namibia were inhabited since early times by Bushmen, Damara, and Namaqua, and since about the 14th century AD by immigrating Bantu who came with the Bantu expansion. It became a German Imperial protectorate in 1884 and remained a German colony until the end of World War I. In 1920, the League of Nations mandated the country to South Africa, which imposed its laws and, from 1948, its apartheid policy. It gained independence from South Africa on 21 March 1990, following the Namibian War of Independence. Namibia has a population of 2.1 million people (the second-lowest population density of any sovereign country, after Mongolia) and a stable multi-party parliamentary democracy. Agriculture, herding, tourism and the mining industry – including mining for gem diamonds, uranium, gold, silver, and base metals – form the backbone of Namibia's economy. The majority of the Namibian population is of Bantu-speaking origin, mostly of the Ovambo ethnicity, which forms about half of the population, residing mainly in the north of the country, although many are now resident in towns throughout Namibia. Other ethnic groups are the Herero and Himba people, who speak a similar language, and the Damara, who speak the same.
BUSINESS OPPORTUNITIES IN NAMBIA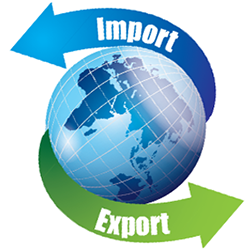 Exporting refers to the selling of goods and services from the home country to a foreign nation. Whereas, importing refers to the purchase of foreign products and bringing them into ones home country.
EEI is the data that must be filed through the Automated Export System (AES) for goods shipped from the U.S. to a foreign country. The filing includes information about the sender and receiver of the goods, and about the goods being exported.
An import is a good or service bought in one country that was produced in another. Imports and exports are the components of international trade. If the value of a countrys imports exceeds the value of its exports, the country has a negative balance of trade, also known as a trade deficit.